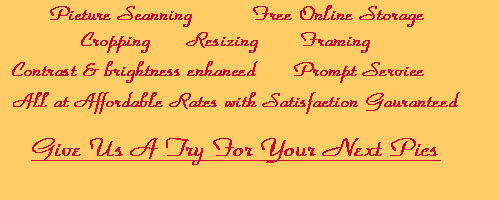 Welcome to Bruce's Scans, a new service from Couchpapa that makes picture scanning and enhancement affordable to Web Tv users and computer users alike. I'm creating this service to make quality on line pictures available to all.

The service will include scanning of your pictures, adding borders or frames, cropping and resizing for easier loading, and even enhancing things like contrast & Brightness of the pics for the best possible viewing. Since I've added a computer to my internet experience (in addition to still using Web TV) I'm able to offer this service to all who've used my site this last 2 years and to many new friends I hope.

I'm going to include a sample of the various enhancements I will offer and try and do them at rates that are more than competitive. They will run as follows:

Simple scan: $1.00

Additional services

Frame or Border $0.50
Crop or Resize $0.50
Adjust color: (Contrast & Brightness) $0.50
Upload to Online storage or your site: Free
Send as E-Mail attachment: Free

To take advantage of this service send the pics with a postal Money order for selected service and your color preferences for enhancements and a self addressed stamped envelope for the return of your pictures to:

Bruce Clarke
2068 St. Rte. 49 #17
Constantia, NY
13044

Below you'll see some examples of the different features as applied to a single picture I chose as a sample.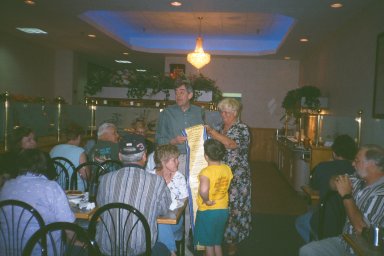 The Original Pic

With Contrast etc enhanced and border added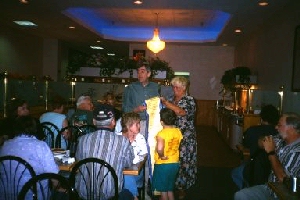 Resized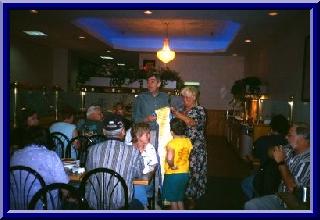 Resized and Framed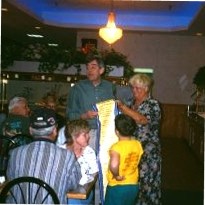 Cropped